Local business takes the "office" out of "post office"
October 19, 2022
Just in time for the holidays, a Helena area business is changing the way people send mail and packages.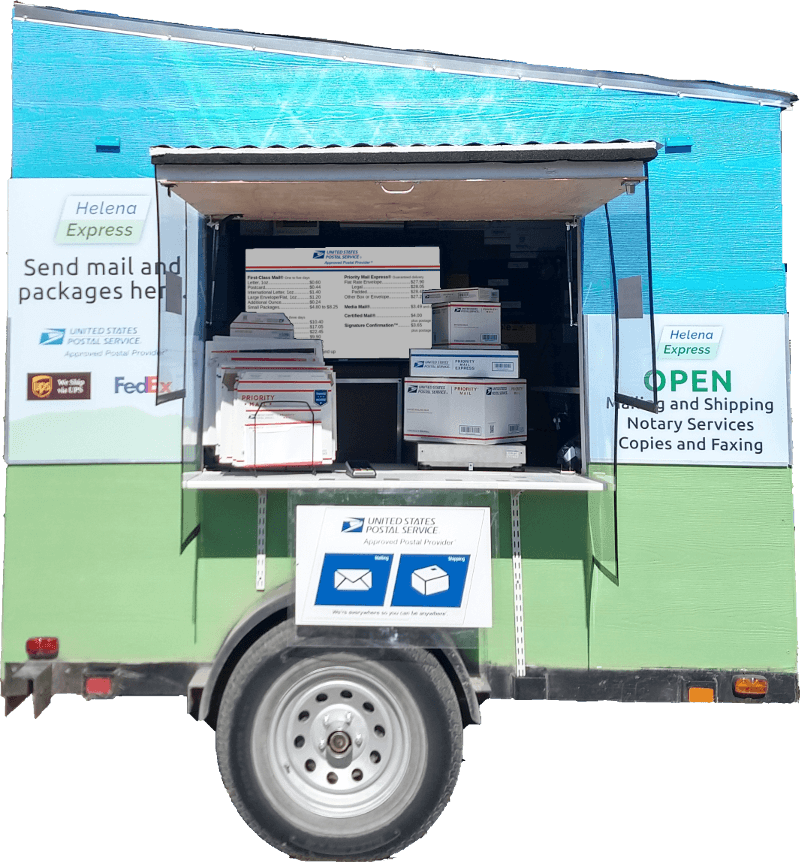 Helena Express is a local business founded in 2020 during the height of the pandemic. Their original service is meeting customers at home to ship packages from their driveway. Since then, Helena Express has expanded with package drop boxes and a self-serve shipping kiosk around the Helena area. They started providing mobile notary and telegram services in 2021.
Now with a specially-outfitted custom trailer, Helena Express is offering a variety of mailing and shipping options, plus stamps, boxes, and even notarizing and faxing. "It's like a food truck for mail," says owner Skylar Ittner. He continues, "We get rates from USPS, UPS, and FedEx so you can get the best prices in one place, and we charge the same prices as the post office."
Helena Express posts their trailer schedule and locations online on their website, helena.express. They can also be reached by phone at (406) 389-8988.
---
Helena entrepreneur builds app to beat the line at the Post Office
Anybody who has sent a package this time of year knows the line at the Post Office can be quite the ordeal. Where most see a headache, one person saw an opportunity to make the holidays easier for everyone.
Helena Express is a local business started in 2020 that will come to customers and ship their packages from their driveway. "You can have packages delivered to your front door, but sending one means a car ride and waiting in line. I wanted to change that," says entrepreneur Skylar Ittner.
Users of the Helena Express app or website can request a package pickup by the end of the day, with the option of choosing a specific 15-minute time slot if on a tight schedule. A specially outfitted car with a postage scale and equipment will visit and pick up outgoing packages.
"It's like Uber for mail. I weigh your package, print shipping labels on the spot, and you get a receipt with tracking numbers. I also compare rates from USPS, FedEx, and UPS, so you always get the best price," Ittner explains.
Area residents and businesses interested in Helena Express can visit their website at helena.express or call 855-406-SHIP (406-389-8988).